Feed Back!
If you want to comment on articles appearing on this web site you can contact us by using the information on the contact page above (How to contact Pendle Labour Party).
Last updated:
Tuesday 4 September, 2018
---
Tuesday 04 September 2018

Labour Campain Against Rail Chaos
| | | |
| --- | --- | --- |
| Pendle Labour Party members joined Prospective Parliamentary Candidate, Azhar Ali, yesterday (3rd September) to highlight the failings of the rail network in the region. | | |
Speaking to rail users at both Colne and Nelson stations, the activists provided information about Labour's plans to improve the network.

Since the Tories came to power rail fares are up by 32%, leaving some passengers paying thousands of pounds more each year.

For decades northern communities have received only a fraction of the transport investment that is spent in London and the South East. Labour will put this right by increasing connectivity across the region, such as re-opening the Colne to Skipton line and building Crossrail for the North, connecting the great cities of the north of England to unlock huge untapped potential.
Labour would bring our railways into public ownership, this will mean:
Capped fares
Better, more reliable services
Investment in our railways
Azhar Ali said:
"Passengers are right to be angry at the rail chaos unleashed by the Tories on the North of England. It shows their utter disregard for people living in the towns and cities in the North, and Pendle is particularly badly served. That's why Labour want to build a rail network for the many and not the few."
---
Wednesday 01 August 2018

Celebrating the NHS
NHS workers were invited to join local residents over tea and homemade cakes at a tea party to celebrate the 70th Birthday of the NHS, organised by Pendle Labour Party on Saturday 28th July.


Photograph: Shows Azhar Ali with NHS staff holding their commemorative, Aneurin Bevan cards.

The event which took place at Primet Community Centre, Colne, gave people the opportunity to thank NHS staff, both past and present, for their hard work and was attended by around 100 people including 8 current and former NHS workers.

The highlight of the afternoon was a presentation by Labour's Prospective Parliamentary Candidate for Pendle, Azhar Ali, when he personally thanked those staff present.

Azhar said: "It is important that we show our appreciation to those who show such commitment to providing care through the National Health Service. Every single one of them, from hospital cleaners through to top surgeons deserve our praise. The NHS is this country's greatest achievement and couldn't function without their dedication."
---
Wednesday 25 July 2018
A Victory for Common Sense
| | | |
| --- | --- | --- |
| The brakes were put on Pendle Conservative's plan to give away public land to a private businessman, at a meeting of Pendle's Policy and Resources committee on 24th July. | | |

Labour councillors lodged objections to the plan after consulting residents living in the Holt House area of Colne and asked for more information to be available before any decision was made.

The Conservative leadership agreed to Labour demands to pause and seek answers to questions about a number of issues from the owner of Colne Football Club. A previous resolution, which had been agreed by the Conservatives to allow their Leader to negotiate any terms of handover of the land, has now been withdrawn.

Labour's Azhar Ali says:

"The decision to simply give away public land without any consultation has never made sense and many residents in the area were understandably upset. We have also asked that a formal public meeting be held with local people to listen to genuine views from those affected by this proposal.
---
Wednesday 18 July 2018
Labour's Prospective Parliamentary Candidate for Pendle, Azhar Ali, was joined, this morning by Party members from all across the constituency to celebrate 70 years of the National Health Service.
| | | |
| --- | --- | --- |
| | | At a street stall in Colne, Pendle Labour Party invited members of the public to sign a giant birthday card which will be presented to health workers at an event later in the month to which the public will also be invited. |

Labour's birthday card was chosen following a nationwide online competition. Azhar Ali said:

"The NHS is the Labour Party's proudest achievement. I'm really looking forward to the community coming together to appreciate an institution that has bound us together for the last 70 years and to thank the staff past and present who look after us."
---
Tuesday 03 July 2018


Pendle's Labour Councillors have "called in" the Conservative administration's decision to hand over the Holt House sports facility, free of charge, to a private business.



The move, which is supported by the Lib Dems, comes after it was agreed by the Pendle Conservatives that the land, which houses both Colne and Nelson Rugby Club and Colne FC, be given to the owners of Colne FC without a penny changing hands.

The land, which is presently under a 99 year lease from Pendle Borough Council, would therefore pass into private ownership when currently it is a public asset.



Labour's Azhar Ali said: "It is highly unusual for a council to want to simply give land, which is worth over £100,000, away to a private company. We all want to see Colne FC doing well and have a bright future, but this plan is risky and puts both the football club and, the rugby club, at more risk than if the land remained in public ownership. The residents around the Area also need to be consulted about the additional traffic volumes and how those issues will be mitigated "

Mohammed Iqbal, leader of the Labour Group on Pendle Borough Council says: "There has been no evidence of due diligence in relation to the proposals, no business plan has been submitted to ensure that the venture is financially sound. Residents, on the North Valley estate have not been consulted or given assurances about what would happen to the land if the club ceases to exist or to vacate the site at some point in the future."

Labour are seeking a review of the proposal, in light of the lack of information provided, and are calling for a public meeting with residents of the Holt House area along with other Pendle residents, before any decision is made.
---
Tuesday 27 March 2018
Pendle Labour party has announced its candidates for the local elections on 03 May 2018
These elections are a chance to send a powerful message to this weak and divided Conservative government.
After eight years of Conservative cuts in vital services, failed privatisations and falling living standards, it's time for real change.
The Tories are slashing the local services on which you and your family depend, from policing to social care. They are starving councils of cash to pay for tax cuts for the richest.
Labour will rebuild our communities and transform our country for the many not the few. That change can start now.
Follow this hyperlink to the Elections page to find out who is the Labour Party Candidate for your area of Pendle.
---
Wednesday 14 February 2018


Councillor to offer free service to assist in claims against Council for pothole damage to cars




| | | |
| --- | --- | --- |
| | | Pendle Councillor, Yasser Iqbal who represent the Reedley Ward has called on residents to make a claim against Lancashire County Council for damage caused to cars by potholes. Councillor Yasser Iqbal who is also a Barrister has said that he has been inundated with calls from residents in the area he represents who have been left out of pocket due to the poor state of the roads. He has offered to help his constituents for free in taking Lancashire County Council to Court if they fail to deal with the claim. |

He said that some people have had to pay huge sums of money to repair their vehicles and have suffered significant financial hardship due to lack of maintenance by Lancashire County Council.

Cllr Yasser Iqbal said: "It is not fair on the people of Pendle that the Conservative County Council are not investing in the much-needed road resurfacing. After forking out hundreds/thousands of pounds for repairs it is kick in the teeth for people when they find out that Conservatives at County Hall have increased council tax but out of an additional £3 million for highways which was approved to deal with damaged roads, Pendle got a mere £11,000. The wards of Brierfield and Reedley that I represent got nothing which quite frankly is a disgrace".

"Due to the unprecedented number of people contacting me I have been left with no option but to advice people to make a claim against the council. The issues have been raised by my colleagues at County Hall and the Leader of Lancashire County Council, Geoff Driver is well aware of the potholes crisis here in Pendle but it seems that our concerns are not being taken seriously. Hopefully if people start complaining and making claims against the council they will wake up and start repairing the roads. I will help my constituents in taking the County Council to court if they fail to deal with the claim for repairs and I will not charge a single penny for my services".
---
Monday 05 February 2018


Pendle Women Celebrate 100 Years of the Vote



| | | |
| --- | --- | --- |
| Wearing rosettes and corsages in the colours of the suffrage movement, women from Pendle Labour Party have gathered at Unity Hall in Nelson to mark the 100th anniversary of women first being given the vote. | | |

The location was chosen because of its historical significance in the Women's Movement – starting its life as the Independent Labour Party's "Socialist Institute", where local suffragist and social campaigner, Selina Cooper, laid a cornerstone at the building and gave talks and lectures.

Unity Hall has recently been renovated and brought back for community use by Nelson Town Council and one of its rooms is now named after Selina Cooper.

Party Vice Chair Yvonne Tennant said:

"Selina Cooper is a personal heroine of mine and I would love nothing better than to see Nelson paying tribute to her by honouring her life and work with a statue. If Manchester can get one of Emmeline Pankhurst surely we can get one of our local champion."

Pendle Labour Women's Officer, Laura Blackburn added:

"Selina was a local heroine. She was a mill girl with a huge social conscience. Without her and others like her women wouldn't have been given a voice. It is only right, that in this centenary year, we celebrate those women who have given us our freedoms today."
---
Friday 26 January 2018

Lancashire better off under Labour claim by senior Pendle Conservative!
Leader of Pendle Council and Lancashire County Councillor Mohammed Iqbal has welcomed the views of Deputy Leader of Pendle Conservatives and former County Councillor Paul White who made the comments:

"The Tories under Geoff Driver are screwing Pendle, we were better off under Labour".

His comments were made prior to a meeting with Burnley and Pendle Citizens Advice Bureau and Pendle Cllrs Mohammed Iqbal, David Whipp and Paul White at Nelson town hall on Wednesday 24 January 2018.

Cllr Iqbal said:

"I welcome the comments made by Cllr White because since May 2017 the Conservatives at County Hall are deliberately neglecting a Pendle in all ways from the £760,000 cut to our waste collection to a pitiful response on potholes over the last few weeks. It's about time Pendle's Tory County Councillors and the MP stood up against this politically motivated underfunding of Pendle by their leader, Geoff Driver and fought for a fair deal for Pendle ".
---
Wednesday 24 January 2018

Consultation on proposed Multi Academy Trust (MAT)
| | | |
| --- | --- | --- |
| Russell Tennant, Chairman of Pendle Labour Party has written a letter to the Nelson Leader Colne Times series raising substantial questions about the proposed Multi Academy Trust (MAT) which involves schools in Pendle. The letter is reproduced below: | | |

I recently contributed to the consultation about the proposed formation of the Multi Academy Trust (MAT) which involves Blacko Primary, Laneshaw Bridge Primary, Lord Street Primary and Park High School.

Not only is there concern about how many people the consultation has reached but there seems to be a lack of clarity about how the MAT will operate. Our members have asked me to raise the following points.
Will all the schools involved retain an open access policy and not select admissions on academic ability?
Will the MAT will continue to be a non- profit organisation and what measures will be put in place to ensure that the schools cannot be asset stripped as has happened in other parts of the country?
Will the Directors of the MAT benefit financially from the new organisation?
Will pupils at the primary schools involved get preferential access to places at Park High as there seems to be mixed messages being delivered by the schools involved?
Will all the schools involved guarantee that all full-time teaching staff will be fully qualified teachers?
I am sure that everybody wants to see improvements in the quality and standards of education in Pendle; however it is not clear that these plans are the best way to achieve this. Yours faithfully Russell Tennant, Chairman, Pendle Labour Party
---
Tuesday 23 January 2018

Local NHS Crisis
| | | |
| --- | --- | --- |
| | | Members of Pendle Labour Party hosted an information stall in Colne on Saturday 20th January, highlighting the ongoing crisis in the National Health Service. |

Despite Jeremy Hunt persistently claiming that the NHS was better prepared than ever before to deal with this year's winter flu crisis, many local people are currently experiencing record waiting times at A&E and many others are having essential operations cancelled.

Amy Barringer, the UNISON North West health spokesperson explained:

"The proportion of our national income spent on health has fallen in recent years, and it is low by international standards. The current crisis in our A&Es is a result of a political choice to spend less on health and other public services. That choice does not match the priorities of the public, and it certainly does not match the growing health needs in our society.

"Inadequate social care provision means that it is difficult to discharge patients safely from hospital. Our wards are full, and that piles pressure onto A&E departments and ambulance staff.

"Staff are working flat out to try to keep things going. Working long hours, missing their breaks, sometimes neglecting their own health and family life in their efforts to serve patients. Many are frustrated and demoralised as they see the services they work in not being as good as they want them to be. "There is an urgent need for more investment in our public services."

Chair of Pendle Labour, Russell Tennant added:

Incidences of ill health are more prevalent in Pennine Lancashire than many other areas of the country.

"People are facing hardship and this impacts on health with some children not getting a decent start in life. Many of us suffer from entirely preventable diseases; and statistics show that in Pendle, mental illness is more common than in other Boroughs.

"This puts a strain on already underfunded local services, even before you factor in entirely predictable issues like an increasing need for social care for the elderly and outbreaks of winter flu."
---
Wednesday 10 January 2018

Potholes in Pendle Roads
| | | |
| --- | --- | --- |
| The Leader of Pendle Council Cllr Mohammed Iqbal has today written to the leader of Lancashire County Council asking for the urgent release of funds to address the pothole crisis across Pendle. | | |

Cllr Iqbal said"

I and other Councillors have been inundated with genuine complaints from residents at the pothole crisis across Pendle. The response from the County Council has been very slow despite an election pledge from the conservatives in pendle saying they would be allocating extra money to Pendle , the reality is that the Conservatives are neglecting Pendle .

"I on behalf of the residents of Pendle are asking LCC to release money immediately and allow Pendle to co-ordinate the urgent repairs needed now".

Councillor Mohammed Iqbal - Leader of Pendle Council County & Councillor for Brierfield & Nelson West
---
Thursday 23 November 2017


M65 Flooding - Councillor Iqbal urges County action




| | | |
| --- | --- | --- |
| | | Leader of Pendle Council Cllr Mohammed Iqbal has written to the Cabinet Member for Highways at Lancashire County Council, Keith Iddon asking for an urgent meeting to discuss the lack of gully cleaning on the M65 which has led to very dangerous driving conditions in recent days. |

Cllr Iqbal said:

"The weather over the last few days has resulted in the motorway either being closed or severely restricted due to surface water on it. This has caused many people to ask what LCC are doing to alleviate such a dangerous issue. I have asked the Cabinet member to come and meet the leaders of Burnley and Pendle as the County Council are responsible for this stretch of the M65. In the meantime I would ask all drivers to drive according to the weather conditions and take extra care"
---
Wednesday 22 November 2017


Labour Pledges to Reopen Rail Lines
| | | |
| --- | --- | --- |
| Ahead of the Autumn Budget Shadow Transport Secretary, Andy McDonald MP, is calling on the Government to match the Labour Party's commitment to boost investment in and expand the rail network by filling in the missing rail links. | | |

Re-opening rail lines have local support, are positive for business and can boost areas of economic deprivation. They can also alleviate congestion, reduce social isolation and improve productivity. That is why Labour is announcing the establishment of a working group to develop proposals for reopening rail lines across the United Kingdom. The group will work with local politicians, campaign and passenger groups, businesses, and devolved authorities to identify and set out plans for investing to open lines where there is a social and economic case to do so.

The working group will compliment Labour's plans for infrastructure investment across the country, specifically targeted at areas suffering poor connectivity and underinvestment.

Labour has identified the Skipton-Colne Rail line as one such high priority scheme that can help connect additional towns and cities & realise the benefits for the planned Crossrail for the North. Elsewhere the group will examine the case for reopening the Portishead to Bristol line in the South West and the Worcester to Derby Main Line Railway between Stourbridge and Burton in the Midlands as a part of the initial tranche of considerations. Labour is calling on Chancellor Philip Hammond to make available the resources to explore and bring forward detailed plans.

Commenting on the plans, Andy McDonald MP said:

"The social, economic and environmental case for expanding our rail network is clear, but the Tories have starved much of our country of the investment needed for our regions to reach their full potential.

"This working group will engage with those passengers and businesses who best understand the transport needs of their areas, in order for Labour to target investment that will help revive local economies.

"Under-investment in the regions is holding our economy back, particularly the absence of Northern East-West rail links, which is why there is such a strong case for reopening the line between Colne and Skipton & greater investment throughout the country. The route is a vital link between East Lancashire and Yorkshire, and when completed would deliver 50 miles of electrified railway line from Leeds to Burnley.

"Reopening this line has the potential to be transformative for the area. It's exactly the type of scheme that needs exploring as part of a much more significant commitment to boost investment in the North and close regional funding divides."

County Councillor Azhar Ali, Leader of the County Labour Group said:

"This is a ground breaking announcement from the Labour Party. For decades SELRAP and others have put forward a strong case for reconnecting East Lancashire and especially Pendle to Skipton which has always fallen on deaf ears till now

"I along with East Lancashire Labour MPs have been lobbying Jeremy Corbyn and the Shadow Chancellor John McDonnell, who used to live here, to commit more resources for the north after years of areas like Pendle and East Lancashire having been starved of much needed infrastructure monies

"This commitment not only to reopen the Colne to Skipton Line but to electrify the line to Burnley will deliver a massive jobs boost and open opportunities for young people as well as a massive opportunity to build tourism.

"I will continue to work with Jeremy Corbyn and John McDonnell to seek a commitment to also look at road links across to Yorkshire to ensure that Pennine Lancashire becomes a real Northern powerhouse – this is an early Christmas present and shows that a Labour government will deliver for East Lancashire."
---
Friday 29 September 2017


A letter from Councillor Mohammed Iqbal Leader of Pendle council to Andrew Stephenson MP, concerning

"Pendle Council's plans to build on Earby's green fields"



Dear Andrew,

I understand from correspondence that I have received that you are encouraging residents in Earby to "help me fight Pendle Council's plans to build on Earby's green fields" and oppose the proposed disposal of Council-owned land in their area. Having had sight of the letter you have issued, I am disappointed that you have neither set out the reasons why Pendle Council is considering the disposal of these sites nor explained the considerable pressure being placed by the Government of which you are a member on local authorities such as Pendle both to deliver new housing and to deal with the funding reductions imposed by you. Download a copy of the letter here (PDF 397KB)
---
Friday 22 September 2017

Pendle Public Meeting on Public Sector Pay - Pay Up Now.
| | | |
| --- | --- | --- |
| | | Public sector workers have lost thousands since 2010 due to the pay freeze and 1% cap. At long last the cap is beginning to crack, but we need to make sure that the government funds a substantial pay rise for all public sector workers. |

As part of the pay campaign North West TUC and Unison have arranged a public meeting in Pendle on Monday 25th September 2017. The meeting is scheduled to take place from 7.00pm to 9.00pm, at the Unity Wellbeing Centre, Vernon Street, Nelson BB9 9DX.
---
Wednesday 06 September 2017


Peaceful protest against genocide in Burma



| | | |
| --- | --- | --- |
| Leader of Pendle Council Mohammed Iqbal has with support of fellow councillors organised a peaceful protest against the killing of thousands of innocent Rohingya Muslims in Burma | | |

Councillor Iqbal said:

"It is a crime against humanity what the world is witnessing in Burma and I have been asked by many Pendle people to organise a peaceful protest on Friday 8 September outside Nelson library at 2.30pm.

"I have also written to the Member of Parliament asking that he asks the Prime Minister to intervene and stop any further killings. I am appalled at our government keeping quiet on such atrocities."
---
Saturday 19 August 2017

Jeremy Corbyn in Pendle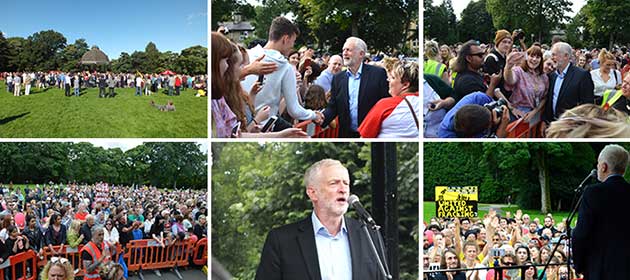 Jeremy Corbyn visited Pendle on Thursday, 17th August, as part of his whistle-stop tour of key marginals across the country.

The Labour leader took time out to speak with women at the Sultania Mosque in Brierfield and with volunteers at the West Craven Foodbank which is based in Barnoldswick Baptist Church. The highlight of his visit was a public rally in Nelson's Victoria Park, and police who were present at the event estimated that some 2,500 people attended to hear him speak.

In a rousing speech, Mr Corbyn addressed a number of topics ranging from the crisis in health and social care, through to education, the environment and the fight against Islamophobia, anti – Semitism and all forms of rascism. He also spoke of his opposition to the Transatlantic Trade and Investment Partnership (TTIP) and fracking.

Mr Corbyn also went on to thank local Labour campaigners and Pendle voters for almost succeeding to unseat the incumbent Conservative MP, Andrew Stephenson, at June's General Election.

We intend to put more photographs on our Facebook page.
---
Tuesday 15 August 2017


Tory Councillor found guilty by panel!


Conservative former Mayor and Earby Councillor Rosemary Carroll was found guilty at a Special Meeting of Pendle Council Hearings Panel on Monday 14 August 2017. The panel considered a report from the Council's Monitoring Officer following 2 complaints on 29th June 2017 by Councillor Wayne Blackburn and Councillor Mohammed Iqbal relating to the sharing on social media of a highly offensive and racist joke by Cllr Carroll. The report from the Monitoring Officer concluded

"I consider the post to be derogatory and insulting to benefit claimants, and also racist", he also added"My finding is that there is sufficient evidence of a failure to comply with the Code of Conduct".



The Panel made the following decisions:

1.To make the report public with a press release
2.To recommend the full council to censure her
3.Not to allow her on committees other than area committee for 12 months
4.To attend training on use of social media.

Councillor Wayne Blackburn said:

"I am grateful to the panel for reaching a conclusion which reflects the anger expressed to me by many residents from across Pendle. However, I am disappointed in the sanctions placed and do not believe they go far enough. It continues to be a cause of concern that here we have a senior member of the Conservative party in Pendle being found guilty of racism and her party continue to try and brush it under the carpet"

Leader of Pendle Council Cllr Mohammed Iqbal said:

"I am extremely disappointed at the so-called investigation by the Conservative Party whose sanction was to send Cllr Carroll on a diversity training course!. It is the case that the report from the Monitoring Officer was shared with the Leader of the Conservative group, Joe Cooney over a week ago and he and his party have chosen to hijack the panel hearing today by announcing a slap on the wrists for Cllr Carroll. This demonstrates that the Tory party are not honest in terms of condemning racist behaviour from one of their own councillors. I once again ask Andrew Stephenson MP and Cllr Joe Cooney to take steps to expel Cllr Carroll if they are genuine. I have today sent a letter to the Prime Minister, Theresa May asking for her intervention as it's clear her party in Pendle has serious issues in dealing with this matter"
---
Saturday 12 August 2017


Pendle Labour Party are pleased to announce the details of Jeremy Corbyn's much anticipated visit to Pendle on Thursday 17th August

.


| | | |
| --- | --- | --- |
| | | Mr Corbyn will be addressing a public rally at 4.30pm from The Bandstand in Victoria Park, Nelson. The visit forms part of his whistle-stop tour of marginal seats across the country this summer. Pendle is now one of the key seats that Labour must win to form the next government. |

Pendle Labour Chair, Russell Tennant said:

"We are delighted to welcome Jeremy to Pendle. He is somebody who has inspired so many people to make their voices heard and to stand up for the values that will lead to a better society" .

People are asked to make their way to the park on foot where possible, to avoid traffic congestion and parking issues

---
Friday 21 July 2017
Shadow Minister visits threatened Colne Jobcentre
| | | |
| --- | --- | --- |
| Shadow Work and Pensions Secretary, Debbie Abrahams MP, visited Colne yesterday (20th July 2017) to meet with disabled residents and activists from across Pendle and to discuss issues surrounding Employment and Support Allowance (ESA) and Personal Independence Payments (PIP) | | |

. Many raised concerns about the imminent closure of Colne jobcentre and the effect that this would have on people's lives.

Debbie Abrahams, commenting on the closure of Colne jobcentre said:

"The Department for Work and Pensions' decision to close Colne jobcentre will have a real impact on local people, particularly those who are vulnerable or have a disability who will have to travel miles to access services.

"At a time when the Government is planning to force a million more working people to attend a Jobcentre, under its plans for in-work sanctions, it is simultaneously closing Jobcentres the length and breadth of the country."

"Only this Government's distorted austerity agenda could lead to such contradictory policies. Either the right hand doesn't know what the left is doing, or they are both acting together to make working people's lives harder."

"This Tory Government's decision to close Jobcentres shows they have no interest in helping people to find decent and secure work."

Councillor Wayne Blackburn added:

"I'm deeply concerned that this closure is to go ahead. I am also disappointed that Andrew Stephenson seems to have done nothing to change this decision, despite expressions to the contrary. Even at this late stage, I would call on the Government to keep the jobcentre open".

Health workers and volunteers from local food banks also shared their experiences with Mrs Abrahams and highlighted cases where residents have been let down by the current system.
---
Sunday 09 July 2017


Pendle Labour Party have been made aware of threats made against Andrew Stephenson MP and his staff on Tuesday, 4th July.



Whilst we and Mr Stephenson differ in our political views, Pendle Labour opposes any form of violence and condemns these threats in the strongest terms.

Political discourse should be about robust debate and putting your position across strongly, not threats and intimidation. Actions such as these are nothing more than an attack on our democracy which we should all vigorously defend.

Mark Porter
Chair of Pendle Labour Party
---
Wednesday 28 June 2017

Pendle Conservative MP votes against ending cuts to our police and fire service and lifting the public sector pay cap.
| | | |
| --- | --- | --- |
| | | Wayne Blackburn, Pendle CLP Secretary and recent labour parliamentary candidate commenting on today's vote in parliament said: |


"During the General Election campaign, Andrew Stephenson attempted to portray himself as "Pendle's Champion". Today, he voted not to give public sector workers a pay rise despite years of nurses and firefighters dealing with a 1% rise in their wages, amounting to a real terms cut in their income. I wonder how he will look those public sector workers in Pendle in the eye tomorrow and still claim to be their champion?"
---
Friday 09 June 2017


Statement from Mark Porter, President of Pendle CLP




| | | |
| --- | --- | --- |
| First of all on behalf of the CLP can I say a big thank you to all members and supporters who helped out during the General Election. Whilst we did not manage to get Wayne elected this time the result was fantastic and increasing our vote by 5,000 people and reducing the Tory majority from 5,500 to a little over 1,250 none of which would have been possible with all your help. | | |

I would also like to put on record my personal thanks to Wayne for his hard work and dignity and his enthusiasm for this campaign, Wayne you should be proud of what you achieved in less than 6 weeks.

I think it is clear from this General Election result that the country has sent the Tories a message nationally and I am confident that the same can be said locally.

The result leaves us with a hung parliament and with it brings uncertainty to the BREXIT negotiations due to start in just 11 days' time.

Nobody knows what the next few months will bring so can I suggest you all take a well-earned rest recharge your batteries for when the 'Weak and Wobbly' May Becomes the 'Strung up and Sacked' and we are then faced with another General Election, whenever that may be. We will be ready and remember the old cliché a week in politics is a long time!
Regards
Mark Porter
President of Pendle CLP
---
Wednesday 30 May 2017


Local Tory needs to apologise for calling local voter a Pa**!




| | | |
| --- | --- | --- |
| | | Leader of Pendle Council and newly re-elected Lancashire County Councillor Mohammed Iqbal has demanded that the defeated Conservative candidate and barrister Afzal Anwar apologise for referring to a local resident as a "typical paki". |

Cllr Iqbal said "Mr Anwar ought to be ashamed of his behaviour and using such language on Facebook is unacceptable. He when faced with criticism from people deleted the post but the damage had been done. I would challenge the Tory candidate, Andrew Stephenson to distance himself from such behaviour and expel Mr Anwar"
---
Monday 01 May 2017


Pendle Disability Champion selected for Labour




| | | |
| --- | --- | --- |
| Pendle Labour Party is pleased to announce that Councillor Wayne Blackburn has been selected to stand as the Labour Party candidate in the General Election on Thursday 8th June. | | |

Wayne has been Councillor for Clover Hill in Nelson for two years, and is the Disability and Mental Health Champion for the Council. He has been a campaigner for disability rights for many years, and has worked with several organisations across the North West to campaign against the austerity agenda, social security changes and the hated bedroom tax.

Chair of Pendle Labour Party, Mark Porter, says:

"We're delighted to have Wayne as our candidate, someone local who will stand up for local people."
---
Thursday 09 March 2017
Public Statement from Councillor Mohammed Iqbal, Leader of Pendle Borough Council and Lancashire County Councillor for Brierfield & Nelson North
"It is evident that the Pendle Conservative Party are getting desperate when they resort to accusing me of colluding with or 'doing a deal' with the British National Party.

" For the record I can confirm that no deal of any kind has been done with the BNP.

"Unfortunately, this smear campaign and many other failed attempts to tarnish the Labour Party's and my reputation is all part of poorly orchestrated attempt to regain the leadership of the council and an attempt to influence the local electorate with their false stories.

"The Labour Party is immensely grateful and proud to have received the support of thousands of residents across Pendle over the years giving us a voice in the Council chamber to convey their message and deliver important services in the face of savage cuts from the Tory government.

"The County Council elections are not far away now. The Conservatives will try every trick in the book including false stories to try to give themselves the best chance of victory instead of focusing on what is best for the people of Pendle.

"I am proud of my track record in public service for over 18 years and will continue to serve the people of Pendle to the best of my ability if I am hopefully re-elected on Thursday 4th May 2017."
---
Monday 27 February 2017

Pendle Council Budget Update

Leader of the Council, Cllr Mohammed Iqbal reluctantly proposed a Council Tax increase of £5 per year on a Band D property and said:

"It is a fact that the Conservative government has since 2010 made savage cuts to the money Pendle received and by 2020, we will have suffered a 68% cut or over £8 million in real cash terms.

"It is simply unsustainable for the council to continue provide the level of service expected by local residents in the face of such cuts by the Conservative government.

"The government in the last few weeks announced a further cut in the Council's New Homes Bonus settlement which will result in a further £3 million pound loss to us by 2020. Simply put, the Conservatives are purely for political purposes wanting to end the way councils operate across the North of England.

"The alternative budget proposed by the Conservatives was a reckless one with proposals to privatise many of the services we provide. "They do not have any ideas about the mammoth task ahead of Pendle Council and simply bury their head in the sand.

"They have previously publicly refused to accept the £1.2 million pounds agreed by the Labour led council and indeed voted against these 'easy savings', however at the budget meeting they did a complete U-turn and in a cowardly fashion accepted the previous savings with no apology to the people of Pendle for their previous political antics.

"Their gimmicks were simply to divert attention away from their failure to work with me and the Liberal Democrats on the council to lobby our MP who has failed Pendle unlike some of his colleagues in other parts of the county."
---
Saturday 21 January 2017


Fantastic response to our Care for the NHS campaign in Barnoldswick this morning.




| | | |
| --- | --- | --- |
| | | Huge thanks to all the members who came to help and thank you to the residents of Barnoldswick who took the time, on a freezing day, to talk to us and sign the petition. Clearly, Barnoldswick cares for the NHS. More about The NHS campaign>> |
---
Tuesday 11 October 2016

Fracking Motion – Pendle Council
| | | |
| --- | --- | --- |
| Reedley ward labour Councillor Yasser Iqbal has tabled a motion at the Pendle full council meeting on 20 October regarding the decision by the government to allow fracking in Lancashire. | | |

Cllr Iqbal said "I am very concerned that the conservative government is supporting fracking in Lancashire and they granted a licence last year for Burnley and Pendle. I know that people living in the top part of Brierfield and Reedley are very worried the effect of possible fracking will have on the area. I'm calling on our member of parliament to stand up for the people of Reedley and join my campaign to stop any fracking in Reedley".

The motion for discussion is set out below:

Council notes with disappointment the decision by the Communities Secretary to ignore local democracy and grant a fracking licence in Lancashire Council also notes the decision of the Conservative government to allow companies to apply for fracking in parts of Pendle namely Brierfield.

Council resolves to:

Write to the Prime Minister and the Communities Secretary to not proceed any further with plans to grant licences which allow fracking in Pendle.

Write to Andrew Stephenson MP asking him to publicly speak against fracking.
---
Monday 03 October 2016


Labour Party members from across Pendle took part in The Party's national day of campaigning for "Education Not Segregation" last weekend.




| | | |
| --- | --- | --- |
| | | Campaigners took to Colne Town Centre to publicise Labour's call for action on childcare to ensure early learning for all children; an education maintenance allowance for 16-18 year olds in full-time education to help students from low and middle incomes; grants for university students to help with living costs and a halt to new grammar schools that divide our children at age 11. |

Pendle Labour Vice Chair, Russell Tennant said:

"The campaign day gave us a great opportunity to talk with the people of Colne and have discussions with them about the future of our education system. There were a lot of signatures on our petition.

"Many people were surprised to learn that research has shown that 70% of current Grammar School students have had private tuition in order to get them there – highlighting the case that children whose families can afford private tuition are more likely to get a place, while bright children without the economic means may be left behind.

"Pendle Labour are planning to continue the campaign across the Borough".
---
Wednesday 24 August 2016

Cllr Iqbal to Host Civic Reception for Olympic Champion Steve Burke.
| | | |
| --- | --- | --- |
| Pendle Council welcomes home triple Olympic cycling champion and one of the borough's greatest sporting ambassadors. | | |

Steven Burke represented Britain in the Men's Team Pursuit, scooping the gold medal and setting the new team pursuit world record, alongside Ed Clancy, Bradley Wiggins and Owain Doull, in Rio.

And the Council is planning to mark the latest Olympic achievements of the 28 year old former Park High School pupil, known locally as the Colne Cyclone, in October.

This comes four years after Steven was granted Freedom of the Borough by Pendle Council in recognition of his gold medal in the Men's Team Pursuit in the 2012 Olympics.

It's the highest honour a Council can bestow and is given to 'persons of distinction and persons who have, in the opinion of the Council, rendered eminent services to the Borough'.

The Council also recognised Steven's achievements by naming its Cycling Hub at Swinden playing fields after him in 2014. It was part of the Council's 2012 Olympics legacy which also celebrated his bronze medal in the individual pursuit at the Beijing Olympics in 2008.

Steven, who rides for the WIGGINS cycling team, has been invited to Nelson Town Hall to attend a civic reception on Thursday October 20th so that his latest successes can formally be recognised by the Council.

Councillor Mohammed Iqbal, Leader of Pendle Council, said: "Steven's a brilliant role model for young people and has made Pendle people very proud.

"We're delighted to officially mark his achievements of becoming a triple Olympic cycling champion and the holder of a new world record!"

Brian Cookson OBE, President of the Union Cycliste Internationale and former Regeneration Director at Pendle Council, watched Steven strike gold in Rio.

He said: "It was fantastic to be in Rio to watch the cycling events.

I'm very proud of our British cyclists and in particular Steven and his team.

"He's a real credit to his family and an inspiration to many.

"I'm thrilled that my first Olympics as UCI President were a big success for cycling!"
---
Tuesday 02 August 2016
Members of The Labour Party in Pendle have voted overwhelmingly to oppose any proposals for fracking in the area.
| | | |
| --- | --- | --- |
| | | The vote took place at the Constituency Labour Party's Annual General meeting where it was noted that recent opinion polls show that only 19% of the population supports fracking, while 81% support increased use of renewable energy. |

Barrowford member, Sue Nike, said that fracking is "unwanted, unnecessary and unsafe, involving risks to workers, local residents and the wider population."

The motion comes hot on the heels of North Yorkshire County Council's approval for test drilling to take place at Kirby Misperton in Ryedale, in spite of receiving 4,375 letters of objection from local residents.

Yvonne Tennant, Vice Chair of Pendle CLP said:

"Our membership have made it very clear that fracking is unwelcome both locally and nationally. A license to frack in Pendle was granted late last year and covers Pendleside, Brierfield, Nelson, Barrowford, and the south side of Colne as far east as Carry Bridge. Should these plans go ahead we will be opposing them on every level."
---
Thursday 30 June 2016


Pendle Labour Party statement



Pendle Labour Party is becoming increasingly concerned about the continued undemocratic attacks on Jeremy Corbyn the leader of the Labour Party. This statement is not seeking to provide any commentary on the merits of who is or indeed who should be leading our party, however, we are deeply upset at the manner in which the current turmoil has arisen when strong opposition is what the country needs most at these uncertain times.

Regardless of who supported who in the leadership contest the fact is Jeremy Corbyn was democratically elected by the membership of the party and whilst we respect it is the right of every MP to mount a leadership challenge, this should done in the right manner with the correct procedure as set out within the party rules being followed.

The membership of Pendle CLP was quite clear that whoever won the leadership contest of some 10 months ago, that the membership and the parliamentary MP's should unite behind the successful candidate, a view that remains unchanged. Unfortunately this view does not appear to be shared by a large majority of our elected parliamentarians which is somewhat disappointing.

If there is to be a leadership contest, then Pendle CLP, as always, will engage the membership in true democratic fashion in order to ascertain their views. Until such a contest is declared Pendle CLP will not be making any further comment with regards to Jeremy Corbyn's leadership.

Mark Porter
Pendle CLP President
---
Thursday 19 May 2016

Many of our initiatives will soon come to fruition and the opportunity to continue and build on this work is vital.
Councillors have tonight voted to re-elect Councillor Mohammed Iqbal as leader of Pendle Borough Council.

This will see the continuation of the Labour / Liberal Democrat Executive of the Council which has been in place for the past year.
Councillor Iqbal said:

"I am delighted that the councillors have once again put their faith in me and I look forward to building on our last 12 months achievements where Labour and the Liberal Democrats have worked together for the benefit of the residents of the Borough. Many of our initiatives will soon come to fruition and the opportunity to continue and build on this work is vital."

Councillor Tony Greaves, who was re-elected as Deputy Leader, highlighted the positive working relationship between the Labour and Liberal Groups.

A number of impassioned speeches were made about the need to support the Women's Refuge service, which has come under threat due to Central Government cuts and the Government not deeming them to be statutory services. To this end, Councillor Iqbal offered to travel to London to meet with Government Ministers to request a re-think on funding for Women's Refuges.

The Council's priorities over the coming year include:
Continuing to make sure all parts of Pendle receive fair treatment from the Council.
Continuing to work to maintain local services in the face of draconian cuts imposed by central government, including working across all parties to help to continue to provide Lancashire County Council services such as libraries.
Launching a new drive to increase the supply of social housing across Pendle; giving priority to creating new housing on brownfield sites including Oak Mill in Colne, Brook Shed in Earby and other sites.
Continuing to work to strengthen and support all our town centres. Priority projects to include a scheme to redevelop the site of the old health centre in Colne.
Boosting the existing emphasis on tackling Street Level Issues including dogs and dog dirt, street cleansing and litter, and anti-social behaviour, including the increased use of community protection notices and the use of fixed penalties for fly-tipping and encouraging neighbourhood planning and Neighbourhood Plans in those communities where there is a willingness to take part in them.
---
Monday 02 May 2016


Jeremy Corbyn delights the people at Burnley May Day celebrations




| | | |
| --- | --- | --- |
| | | Applause and cheering from trade unionists and Labour supporters accompanied Jeremy Corbyn's address at the East Lancs Trades Council's May Day celebrations in Towneley Park, this afternoon. |

Speaking to an audience of several thousand supporters from Lancashire and Yorkshire, he laid out his vision of how life would be better for working people under a future Labour Government.
---
Friday 01 April 2016


Presentation to recognise Barnoldswick's St Joseph's RC Primary School's dementia role




| | | |
| --- | --- | --- |
| County Councillor and Cabinet Member for Health and Wellbeing Azhar Ali and Pendle Councillor David Whalley who has Executive responsibilities for Health and Wellbeing recently made a presentation to mark the work of Barnoldswick's dementia friendly school. | | |

The two Labour councillors made the presentation of a photograph to the thirty pupils of St Joseph's RC Primary school to recognise that they were the first in Pendle to be officially dementia friendly in 2014.

A small group from the school also attended the Older People's Champion Network annual meeting at Preston's County Hall where they spoke about the work they had done.
---
Friday 01 April 2016


Pendle Labour Councillor Sheila Wicks and former County Councillor Tim Ormrod have taken the Fairtrade message to Blacko Primary School




Councillor Wicks is theDeputy Chairman of the Pendle Fairtrade Group.

Mrs Wicks and Mr Ormrod shared their wealth of knowledge with the children.

The children learnt that Pendle was the first Fairtrade accredited borough in the country and that Lancashire was also a Fairtrade county.

Blacko Primary School has been a Fairtrade school for nearly 3 years. During Fairtrade fortnight the school promotes Fairtrade and the benefit to food producers around the world. The school has raised £157 for the Fairtrade Foundation this year.
---
Tuesday 16 February 2016

Public Statement from Pendle Labour Party in response to Lancashire County Council Budget 11th February 2016
| | | |
| --- | --- | --- |
| Labour rescues County Council from Tory plans to bankrupt the Council. | | |

Lancashire County Councillors, last Thursday, passed a legal budget for 2016/2017 despite a number of attempts by the Conservative group of Councillors to "kick the can down the road" and their refusal to even mention that the Tory government has cut the money it gives to Lancashire by almost 80%.

Since 2010, the Conservative Government has cut the money it gives to Lancashire County Council by £685 million up to 2020.

Pendle Tory Councillors had promised the people that they would launch a campaign to save Whitehough Camp School and on Thursday said that they had a petition. However, there was absolutely no mention of this in the Tory budget proposals showing we have a Tory party who say one thing in Pendle but dare not speak up at County Hall to their bosses in Preston.

Following the announcement by the government earlier this week of transitional funding to help Councils across the country ease the severe pain of austerity, it has become clear that Lancashire Conservative MP's have failed to argue the case, because whilst Surrey County Council received £24.10 million extra and Hampshire £18.69 million, Lancashire received NIL and Pendle Council has received not a single penny!!!

It is clear that the government has rewarded the Conservative Councils in the South of England but where the need is greatest, in Lancashire, Pendle Conservative MP Andrew Stephenson has yet again failed to bring a single penny and his party dare to treat Pendle residents as fools and have them believe that they stand up for Pendle.

On the day of the County Council budget, it was announced by the government that Lancashire County Council will have its public health budget cut by a further £1.7 million: that's a total of £5.7 million cut this year.

Not a single Tory County Councillor or Member of Parliament has stood up since the election in May 2015 and told David Cameron or any of his Ministers that their savage cuts to Pendle residents are really affecting the vulnerable members of our communities. The Supporting People budget which the government gave to Lancashire and was used for victims of Domestic Violence and young vulnerable people has also been slashed.

Pendle Labour County Councillors Azhar Ali & Mohammed Iqbal have issued a public challenge to the Conservative County Councillors Paul White & Christian Wakeford to stand up and fight for the money robbed from Pendle to reward wealthier areas such as Surrey, Hampshire, and Hertfordshire.




County Councillor Azhar Ali (left)

County Councillor Mohammed Iqbal (right)

County Councillor Azhar Ali said,"

Pendle Conservative Councillors have remained silent whilst Cameron and Osborne have attacked our local services and put at risk vital services like our buses and libraries. Pendle Conservatives are putting young people on the street, cutting Police numbers and leaving older people isolated whilst the likes of Surrey and Hampshire in the South are being given Millions more in cash ".

Cllr Iqbal (Leader of Pendle Council) said,

"Pendle Council's government grant has been cut again this year, whilst big Councils in the South benefit. I know the Conservatives talk about the 'Northern Powerhouse' but we are going to end up with a 'Northern Poorhouse'. It's time that they walked away from their fantasy world and realised that they are destroying local communities".
---
Tuesday 09 February 2016

Pendle Conservative councilors failed to appear at a meeting organised to discuss Lancashire County Council's cuts to services in Pendle.
| | | |
| --- | --- | --- |
| | | Proposed cuts include possible library closures, children's centres, youth centres, local bus services, highways management, and Countryside Services which include Wycoller Country Park, Whitehough Camp School, and reducing the number of buildings the county council owns or uses. |

Pendle Council leader and Labour County Councillor Mohammed Iqbal said:

The Pendle group as a whole had local knowledge and contacts and could help LCC to find ways of keeping some of the services going in different ways.

"Pendle Council wants to help in any way it can to prevent the losses of local facilities."
---
Friday 08 January 2016

Labour Councillors support allotment initiative
The Valley Mills Allotment Society covers eight allotments in the Southfield Ward in Nelson.

They were purchased by the allotment holders themselves some years ago. There is an ongoing programme to maintain and improve them. The Southfield councillors have donated £300 to the society using their ward initiative money.
The photo shows Councillor Sheila Wicks along with Councillor David Whalley presenting the cheque for £300 to members of the society.
---
Archived Items
(local items removed from this page)