I have lived in Pendle all of my life. I was educated in local schools colleges and the University of Central Lancashire.
I have worked in local business and for Lancashire County Council.

I am the parent of three young children, and for many years I have volunteered my spare time to being part of a School Governing Board, supporting local teachers in their efforts to provide a better education for our children. I have also worked for several years as a volunteer at Nelson and Colne Swimming Club as a Swimming Instructor, helping and supporting many children and young people in Pendle to gain lifesaving skills.

I believe that through the experience that I have gained, I know many of the issues, barriers and problems that a considerable number of young people in Pendle face.

By profession I am a Youth Worker with over 25 years of experience, working with some of the most vulnerable and disadvantaged young people in Pendle. My role has been one of supporting and empowering young people for them to gain the confidence and life skills to help them reach their full potential.

I believe that my professional role compliments my role as a Pendle Youth Officer and over the past few years I had the honour to listen to and support many young people and then act as their voice in Pendle and beyond.

Many young people from Pendle have told me that they have a strong interest in politics, but they feel it is politics and politicians that are not interested in them - simply because they are not eligible to vote.

Others tell me that some of the main issues and barriers they face include:
I hear these issues when I go door knocking, work in schools and colleges and amongst young people generally.
These are issues that as one of the Pendle Labour Youth Officers I am passionate about addressing.

In order to raise awareness nationally and locally of these underlying issues, over the last two years I have successfully organised visits by former Shadow Education Secretary Steven Twigg to some of our schools in Pendle, to provide young people with a platform to raise their views first hand, with a shadow government minister.

I have also met with the former Deputy Leader of the Labour Party Harriet Harmen to raise her awareness of the problems and issues young people in Pendle face.

I have been in touch with the office of the leader of the Labour Party and invited him and our MEP to Pendle as I want them to witness what I see and hear from the young people of Pendle and use this information to help shape future policy development.

I have built up a very good relationship with my colleagues at Pendle CLP, including councillors and elected officers, to ensure the voice of the young people of Pendle is at the forefront in our decision making.

I have also successfully liaised and worked closely with the LCC cabinet member for Children and Young People and the Leader of the Council to ensure they are able to offer their full support to the young people of Pendle.

In addition I have also developed positive relationships with some of our sports clubs and facilities in Pendle which many young people use. My goal is simple. I want to ensure that all young people in Pendle have a voice and hopefully realise that their interests at borough, county, national and European level are best served by the Labour Party.

The Labour Party truly values young people. My colleague James Goodhall and I are committed to working with other people in the Labour Party to ensure that young people have the opportunities and respect that they deserve.

Manzar Iqbal
Youth Officer
Monday 20th April 2015.
---
Thursday I9 November 2009
A local young man who recently joined the Pendle Labour Party shares his thoughts on why he joined the party


Why I joined Labour…
I decided to join a political party because of concerns with the younger generation not voting and taking little interest in politics. I asked a lot of people about their reasons for not voting and most people admitted that they have no understanding of politics and feel powerless to make a difference, some felt disenchanted with the main stream political parties. So I decided to join a political party.
I looked at all parties, and even went to listen to the Conservative leader speak, however as good a speaker as David Cameron is, it became clear to me that the Conservatives had not one policy to put before the audience and on occasions he asked us "what we would do".
I've always been nervous of the Conservatives and coming from a working class background know they support the middle and upper classes. I was not keen on the Liberal Democrats either as I feel they have not done a good job in Pendle and seem to change their policies all the time. I did look at the smaller parties, but I didn't agree with a lot of what they had to say.
So I joined the Labour Party because I can see the difference they have made with the NHS, the support for the single parent, their determination with education of not just the young but the old. They brought in the National Minimum Wage, gave greater rights for the disabled, have actively encouraged greener thinking among the public, and are trying to reform the welfare system.
Younger people should take an interest in politics; it's amazing how a lot of women don't vote despite women having to fight for the right to vote. It's our future and it shouldn't just be up to the older generations to make the decisions on our future, we should have a say in how Britain should be in 20 – 30 years time. It's my generation who will witness the end of oil production as global reserves run out, and my generation who will feel the full effects that climate change will have on Britain.
You don't have to be an ambitious politically minded person to join Labour; you don't even have to be directly involved, but by just being a member, I feel I can at least make a bit of a difference to my future and to Pendle and Britain's future.
There are very special contribution rates for people joining the Labour Party as 'Young Labour' or as a 'Labour Student'.
For more information visit: https://secure2.labour.org.uk/join
---
Monday 27 April 2009
Local Focus for Young People's Service in Pendle

Using new powers, Pendle's Lancashire Local committee has approved recommendations on how Lancashire Young People's Service will operate in the district over the coming year.
At its most recent meeting, on 22 April, the committee approved ten recommendations to be included in the Young People's Service's operational plan for the year ahead.
Recommendations included:
Reviewing how effective the Young People's Service's communications with young people are, across all Pendle's neighbourhoods
Offering a core minimum offer of activities and services provided for communities which currently have no provision.
Increasing access to sporting opportunities.
Reviewing which communities are accessing each centre, to ensure the Young People's Service is supporting cohesion across the whole of the area's youth community.
---
Tuesday 24 February 2009
Working in partnership
A young people's representative from Pendle was given the chance to see the busy life of a local councillor during a visit to a community mental health centre in Nelson.
Seventeen year old Saniya Janjua teamed up for the morning with County Councillor Mike Calvert from the Pendle Lancashire Local committee, which consists of representatives from the county and district councils who work together to take decisions and shape policy at a local level.
Follow this link to the Pendle News Page to read more>>
---
Monday 16 February 2009
The Play's The Thing

Pendle MP, Gordon Prentice, wants young people to apply for free or reduced price theatre tickets.
The MP said: "The Department for Culture, Media & Sport are funding an Arts Council England scheme that will provide free tickets to people under the age of 26. Working with more than 200 venues throughout the country, it will distribute 618,000 tickets over the next two years."
"I would like to see young people in Pendle take advantage of this scheme – locally, theatres in Bolton, Bury, Oldham and Manchester are taking part - and the opportunity to see live theatre should not be missed."
The MP added: "Londoners are spoiled for choice in theatre going and, despite the credit crunch, business is booming. I hope many young people here in Pendle will apply for tickets - for local theatres and for those further afield - and have a really great night out".
Update - June 2011
London Theatre Tickets Cheap
- a web site offering access to cheap and some free tickets for students and under 26
Visit from here >>
---
Tuesday 2 December 2008
Nelson Youth Centre wins "myplace" funding
Councillor Mohammed Iqbal, Bradley ward councillor, said: "This is fantastic news for residents in Nelson, but more so for the people of Bradley ward.
"It has been a long time coming but I would like to thank the county council for doing the leg work on this."
More than 450 young people, aged 11 to 25, are expected to benefit from the new facility, which will feature a multi-use games area, internet cafe and computer room,.
Basic literacy and numeracy skills courses, careers, training and employment information are among the first services to be offered from the hub.
Residential courses are planned and classes for the Duke of Edinburgh Award scheme are set to be based there.
Pendle MP, Gordon Prentice, was also delighted to learn of the success of Nelson's Leeds Road Youth Centre bid for government funding.
The MP said "£1.3 million has been awarded for a new youth and community centre on the Leeds Road site. This is excellent news and a great achievement for all involved. The money comes from the "myplace" pot, worth over £200 million, to provide safe places for all young people to go to and take part in a wide range of activities.
"You can do a lot with this huge sum of money. I'm sure young people in the area will be over the moon."
The centre will benefit 11-25 year olds with a focus on 13-19 year olds Its design will be led by local young people and offer arts, music and drama workshops. There will be a cafe with internet access, an IT suite music studio and an indoor sports area.
---
Friday 28 November 2008
Delivering World Class Youth Facilities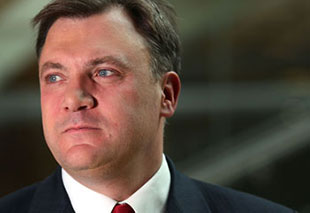 The Labour Government has announced £62 million of fast track funding to develop world class facilities for young people across England.
This first wave of funding will be awarded to 21 successful bidders across the country and will help drive forward Labour's commitment to making this the best country in the world for young people to grow up in. This money will help provide exciting safe places for all young people to go to and give them the opportunity to take part in a wide range of positive activities such as sport, dance and music
The announcement is part of Labour's 'myplace' programme, a scheme which is transforming the provision of youth facilities across the country. Labour is ensuring that young people are actively involved in developing youth facilities in their neighbourhoods to ensure that the projects reflect what young people want and need.
Ed Balls and Jack Straw visited the Lazer Centre in Leeds, which represents the type of facilities myplace hopes to inspire across the country.
Speaking from the Lazer Centre, Ed Balls, Children and Young People's Secretary, said:
"The vast majority of young people are good citizens, play by the rules and just want better things to do and places to go after school and at the weekend rather than hanging around in the street or in the local park. They enjoy getting involved in exciting projects such as myplace, so I hope that this scheme will help change the way communities view our young people.

"myplace will transform positive activities for young people who will be able to decide what kind of facilities they want, and when they want them, such as on Friday and Saturday nights.
"In the Children's Plan we said we want all young people to have the best opportunities whatever their circumstances and myplace will give young people across the country a chance to enjoy new experiences, learn new skills and become a valued member of their own community."
---
There are very special contribution rates for people joining the Labour Party as 'Young Labour' or as a 'Labour Student'. For more information visit: https://secure2.labour.org.uk/join
---